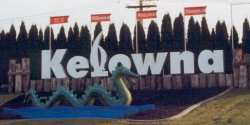 Kelowna belongs to "Central Okanagan" and is located 400km south-east of Vancouver on the Okanagan Lake. Because of the for Canada unusually mild climate with much sunshine, a lake which is more than 100 kilometres in length and spectacular mountains and rolling landscape, the Okanagan Valley is a favoured residential area in Canada. It is no miracle that besides many pensioners also many German speaking Europeans have settled down on the Bodensee of Canada and have a substantial proportion in business and cultural live of this city.


Kelowna is an Indian word and means grizzly. In the surrounding forests are probably brown bears, but no grizzlies. Just 100 years ago the first European came to the valley. They discovered the exceptional mild climate with dry and hot summers and mild and snow secure winters. Soon and with increasing success fruits and vegetables were grown. Still fruit-growing and for some years viniculture as well are an important factor. Take the time to visit one of the vineyards. The vine is excellent.

Click on the picture to enlarge it or click here!
| | |
| --- | --- |
| For a period of time tobacco growing was a real source of economic miracle in Kelowna and the tobacco industry created "Kelowna Pride" for Kelowna grown tobacco and its cigarettes. But the competition was enormous and better conditions in Ontario let this industry die. The remaining part out of this time is the cigarette plant in Ellis Street. Besides farming and logging the service industry is an important factor. Kelowna with a population of almost 100.000 has become the centre for many surrounded villages and cities. Important malls and many large and small shops, an excellent hospital and first class medical care, schools and technical colleges support life quality. The airport of Kelowna offers many times a day direct connections to Vancouver, Calgary and Seattle. Via a mostly four line highway you reach Vancouver in 4.5 hours by car. The tourism industry has grown steadily and is growth industry No one. | Click on the picture to enlarge it or click here! |
| | |
| --- | --- |
| Click on the picture to enlarge it or click here! | Beside Europeans come more and more Asian tourist. A wide variety of bed & breakfast, hotels, motels and resorts offer all kind of accommodations. There are many restaurants, bars, coffee shops and fast food restaurants with international mix and flair. As we Europeans are a little demanding sometimes, there are baker and butcher who are experts in meeting native sense of taste. Kelowna was incorporated in 1905 and shortly after the main street, Bernard Avenue became a new outfit. The wooden buildings were torn down to give space for new brick structures. Kelowna grew slowly during the world wars, but was faced with a big growth, when the Okanagan Lake floating bridge was build. In 1958 Premier W.A.C. Bennett and Princess Margaret opened it for the public. Another big growth came along with the construction of Coquihalla Highway. |
| | |
| --- | --- |
| Besides the wonderful setting and its neighbourhood, which makes each leisure activity to an adventure, Kelowna has many things to offer. Kelowna is shopping pure - the city is a popular destination for shopping and people from all over come here. With many malls to choose from you will find a huge variety. All malls are easy to access and offer sufficient parking space. Inside the malls you will find all kind of specialist shops and department stores and for a break you can enjoy the food court that offers all from a snack to a complete meal. | Click on the picture to enlarge it or click here! |
| | |
| --- | --- |
| Click on the picture to enlarge it or click here! | Also for recreational activities Kelowna provides all possible opportunities. Sport enthusiastic will find many gyms, swimming pools, golf courses, bowling alleys and soccer fields just to mention some of the resources. By the way, golf is not only a sport for the rich, rather everybody can join the fun. In summer for sure the Okanagan Lake with its many beaches offers a popular destination. |
| | |
| --- | --- |
| Visit the marina which is located in the heart of Kelowna. Kelowna's nightlife, with many clubs, bars and cafes is attractive as well. The range of restaurants is enormous and offers dinner pleasure for each style and to affordable prices. | Click on the picture to enlarge it or click here! |
| | | |
| --- | --- | --- |
| Click on the picture to enlarge it or click here! | You will find cultural attractions as well in Kelowna - besides art galleries and museums Kelowna has a large library where you can find many interesting books, newspapers, magazines and other media. This library is public and offers visitors an interesting source for each interest. | |
---
Attractions in Kelowna
---


It is up to you, how you spend your time in Kelowna, but here are some popular recommendations:



Photo: Photography West, Kelowna
Click the picture to enlarge it or click here!
The centre along Bernard Avenue with its restaurants and shops, the city park with its lakeshore promenade up to the Grand Hotel, invites you to stroll around. Sightseeing flights with a seaplane over the city and mountains are very popular. Your captain is Trevor who learned to speak German playing hockey in the German national division. Also popular is a mountain bike tour following the former embankment of Kettle Valley Railway. For just $100.00 you will make a sightseeing flight over the mountains and Kettle Valley Railway.


Kelowna is well known as golf Mecca. If you are beginner and want to give it a try, Fairview golf course on Lakeshore road is probably the best suggestion. Golf clubs and balls may be rented. This is fun pure without stress and formalities.

Tired from driving around?
Just relax on the beach and enjoy the sun. Experts do not stay along Kelowna's highway. Along Lakeshore Road you will find some Motor Hotels like the SIESTA MOTOR INN on beautiful locations adjacent to the beach. The most popular one is Gyrobeach, but it may be pretty busy in summer time. For this we recommend to take a ride along Lakeshore Road - passing orchards and vineyards - to Okanagan Mountain Park. This is nature pure! Do not forget to stop at St. Hubertus Estate Winery to shop for a splendid wine. For swimming and relaxing Bertram Creek Park is a good choice.
<>
Photo: Photography West, Kelowna
Click the picture to enlarge it or click here!


On your way back do not miss to visit Father Pandosy Museum, which offers an interesting exhibition about first white settler in the valley. Along Benvoulin and KLO Road you will find some fruit stands - stop by and shop for excellent local fruits and vegetables.

For completion of your day we recommend a variety of excellent restaurants with varied menus.



---
Trips and cruises around Kelowna and the Okanagan Valley
---


The city centre, typical Western Canadian, shaped by early pioneer spirit, quickly developed to a modern centre of the Okanagan valley. The friendly city park along the lake shore is very popular. The paddlewheeler Fintry Queen offers charters, banquets and meetings. You may also rent a motor boat. You do not need a license to do so, but a credit card is recommended.

Do not miss a drive to Knox Mountain, passing luxurious Grand Okanagan Resort, where you will find a recommended Mexican restaurant on the second floor. The winding driveway up the mountain offers exits to view points where you may take some pictures. On the summit you will have a gorgeous panorama view overlooking the valley, the lake and city. Just a short and comfortable trail away from here, along the northern side of the mountain, you will find unforgettable lake and mountain views.



Photo: Photography West, Kelowna
Click the picture to enlarge it or click here!
After spending such a nice morning, how about having lunch in Guisachan House, a restaurant in an historical heritage house with museum and well-kept yard - or on the patio of Harvest Golf Club overlooking the golf course and lake. Also a visit worth is Callaghers Golf and Country Club overlooking Callaghers Canyon and two wonderful golf courses.
Would you like to see an orchard of 56 hectares? No problem, family Bullok, located at the end of Dunster Road in East Kelowna, will be pleased to show you the farm. The Bulloks grow special sort of apples for the Japanese and Hong Kong market. From here you can go back to KLO Road passing the Mission Creek, which attracts many visitors between mid September and October during salmon spawn season. Turn left on Benvoulin Road to visit the historical open air museum Father Pandosy Mission. Father Pandosy (died in 1891) dedicated his life in pioneer period for spiritual welfare of settler and first nations. After this historical experience it is time to go south on Lakeshore Road to Summerhill Winery as here will be made the only Canadian champagne. You will also see Hubertus Winery, which is owned by a Swiss, and last but not least Cedar Creek Winery which has a pretty nice location.

Photo: Photography West, Kelowna
Click the picture to enlarge it or click here!

Photo: Bruce Knight, Kelowna
Click the picture to enlarge it or click here!
After another 1.5 kilometres along Lakeshore Road you will find a parking space for one of the most popular and beautiful lakeshore parks in Kelowna. Bertram Creek Park, mostly overseen from tourists, is a jewel among the recreation areas on the lake and it is always good for a picnic. Bring some charcoal, matches and for sure your favourite sausages and steaks and enjoy the setting - maybe you will see one of the picturesque sunsets. The Lakeshore Road ends where the wilderness begins. This wilderness, called Okanagan Mountain Park, is 105 square kilometres untouched nature, exciting for hiker and mountain biker. The Wild Horse Canyon Trail is well known for his wild romantic and its magnificent lake views from its western heights. If you take the bike you will need about three hours for a round trip. Be careful - Never go or ride your bike alone and take your provisions and drinking-water with you. The wilderness is also home for rattlesnakes, mosquitoes, wasps, poisonous spiders and other unwanted creatures. You can go with a canoe along the shore. But be aware of sudden gusts of wind, especially in the area of Squally Point the legendary home of Ogopogo, the lake monster. Bikes, canoes etc. you can rent at Sports Rent adjacent to the Siesta Motor Inn on Lakeshore Road.
---
On the west shore to the south
---
| | |
| --- | --- |


Boucherie Road leads to highway 97 in quickly growing town of Westbank. Drive to the south within the city and if you reach Peachland turn left and drive along the nice road on the lakeshore. The village has a beautiful park and a tempting opportunity for lunch in a log house "Gasthaus am See". The road on the lakeshore leads at the southern end of the village into the highway, which will turn into a wonderful lakeshore promenade itself. Maybe you will enjoy the small pottery on the right side. The drive to Summerland offers in the up and down of the road always different and beautiful landscapes to view. On the first traffic light turn right into the town, go straight forward towards the mountain in front of you and try to find the small, winding drive up to Giants Head, which will lead you almost to the summit. The short and steep climb to the summit will reward you with a splendid panorama. The city itself offers a cute, almost seeming old-fashioned business road, which is difficult to find nowadays. A trip with the historic steam train on the short passage of the former Kettle Valley Railroad is worth a short side trip. Continuing your trip to Penticton you will see the modern building of the Canadian agricultural experimental plant, on the right side on the hill, which beautiful yards are open for the public. The drive up is about 2 kilometres south of Summerland. Some nice beaches and picnic areas on the lake invite you for a rest on your way to Penticton.


| | |
| --- | --- |


The road does not end in Naramata, it leads to the North up to the southern end of Okanagan Mountain Park. Another, unpaved, only in summer accessible road, leads into the mountains to Chute Lake, approximately 1200 meter above sea level. An old log house invited you to stay for a coffee, and if you are brave you can ask for a direct way to Kelowna. With a rental car is it an adventure, but your contract may ban those trips. Better take the way you already know to Penticton and on highway 97 back to Kelowna.




---
On west shore to the North
---
| | |
| --- | --- |
| | |
| --- | --- |


On your way back from Vernon to Kelowna you can take Hwy. 97. If you still have some time you may want to visit Elison Park. At the city limit of Vernon, at Polson Park turn right. It is about 15 kilometres drive to the park and you have to drive the same way back. Mayby you would like to have a view from the highway to the beautiful, emerald green Kalamalka Lake. There is a view point located on Hwy. 97. Later on you will pass Wood Lake at Winfield. In the centre at the first traffic light you can turn right to visit Grey Monk Winery. The location is pretty nice on the hillside to Okanagan Lake. Now after leaving Winfield you will pass Duck Lake and the Kelowna airport on your way to Kelowna. At the entrance of Kelowna you will see Scandia Park a popular mini-golf course, one of the attractions of Kelowna.


---
SIMILKAMEEN VALLEY & NORTH CASCADES
---

(a long day - 10 to 12 hours)

Drive across the bridge to Westbank and turn right to 97 C. After 82 kilometres take exit Aspen Cove direction to 5A South.

Follow the speed limit, especially on the highway. Hwy. 5A is a relaxed, winding road without much traffic. It will lead you trough rural settings, passing some smaller lakes and farms to the little town of Princeton, which is formed by copper and gold mining, logging and agriculture and tourism. Here you will find Hwy. No 3, the southern route of so called Trans Canada Highway to Vancouver. You will climb for a long time now, the Similkameen Valley on your side, passing one with the beauty interfering mine, which reminds you that the mountains are not just nice to view, but rich inside. Soon you will reach Manning Park, a mountain park of 665 square kilometres, part of the North Cascades. At the entrance you will find an office, where you can get maps and recommendations for hiking and precautions for your trip. For a short trip of a couple of hours there is a winding road to Cascade Lookout, from where you will have a breathtaking view of the valley and the mountains. From here you can take a short ride to Blackwall Peak with a hike to the cabin of a natural scientist and enjoy the alpine flora. Another good road leads to Lightning Lake, the first and biggest of a series of lakes, from where you will find some hiking trails along the lakes and into the mountains. You can choose of the 20 min lake trail, the Lightning Lake loop 2,5 hours, or Frosty Mountain Loop, 24 kilometres. Frosty Mountain has an altitude of 2400 meter - you start at 1340 m. Take what ever fit your needs. For your travel back to Kelowna you will need 3,5 hours. Drive back to Princeton, stay on the road No 3 along Similkameen through Hedley. Nobody knows, how much gold is still in the pebble and sand of the mountain streams. In the next village, Keremeos, you will find many fruit stands along the highway. In fall you may ask who will buy all the pumpkins. Turn left on the road 3A to Penticton. It is about 32 km to Hwy. 97, which you will reach some kilometres south of Penticton. On the right you will have a view on Skaha Lake. You can drive trough the city or turn left on the city entrance and use the by-pass along the canal. At the end turn left and you are on Hwy. 97 to Kelowna.


Half a day.


High on the top of the southern and western hillside above Kelowna run the Kettle Valley Railway till 1959, one of those excellent engineering masterpieces of railway engineers who cleared the hurdle of the mountains. There are no rails any more, but the embankment is still a nice hiking trail. Some of those brave engineering achievements are nestled on the steep slopes of Myra Canyon. Seven bridges of wooden pillars, some of them 40-50 meter high, fit together to a 1 kilometre long curve along the slopes. This view along with the terrific look into the deep ravine wakes reverence. The gorgeous view of the Okanagan valley and the city make the short walk to a great adventure. You can drive to the old railway within 40 minutes. Take KLO Road and follow McCulloch Road, passing Gallagher's Canyon Golf and Country Club. The tarred road becomes soon a hard gravel road, crossing KLO Creek bridge and one kilometre past turn right into the gravel road up. The way is winding, bumping and is no pleasure. Finally after some kilometres you reach a long, flat place, the former railway station and today's parking place. Turn right, where you will probably other cars - here starts your little walk. Just walk in the same direction, after 10 minutes you will see the first bridge. The bridges are safe and you can cross them without problems. But be careful outside the bridges with the abyss! You can walk as far as you like, but make sure you walk up to the tunnel, because the view back to the bridge gallery which is worth a photo. Also the view down the ravine is difficult to forget. From here you can go for all kind of interesting mountain sightseeing, but make sure you are well prepared for your trips. To return, go back as you came.

Photo: Photography West, Kelowna
Click the picture to enlarge it or click here!


This Travel Guide was kindly made available by Wilhelm Säufferer of Siesta Motor Inn in Kelowna.